Top > General Information
General Information
The summary of the research laboratory
The Precision and Intelligence Laboratories is one of the four research laboratories within the Tokyo Institute of Technology, which consists of three faculties, six graduate schools, four research laboratories and several research and education centers.
The laboratory has five divisions consisting of 15 research sections, two research centers, two guest chairs and several supporting facilities. It is an interdisciplinary research organization with staff members in mechanical, control, electronics, information, and materials engineering. Their activities are oriented toward "integration of precision and information technology" by combining their specialties of wide variety together, which requires a joint effort among researchers in different fields.
The faculty members are also engaged in education for graduate students, offering lectures and supervising researches toward doctor's and master's degrees.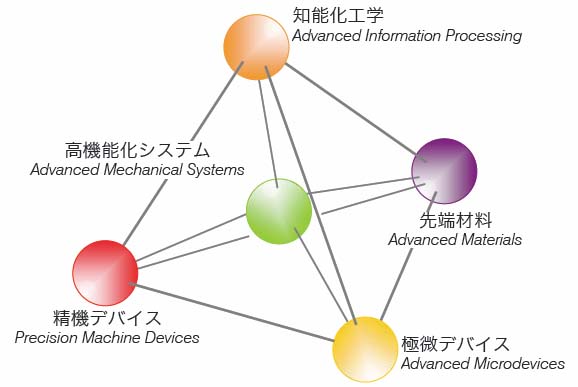 Notable achievements
Our laboratory has produced many talented individuals so far. Among them are two members of the Japan Academy, Prof. Issac Koga for research on crystal oscillators and Prof. Takashi Nakada for research on gears and automatic control. Collaborative research among researchers of different fields has exerted synergy effects which have contributed to the development of machine and robotic engineering in Japan and also have pioneered a new engineering areas, "Silence Amenity Engineering." One of the recent excellent achievements is invention and practical development of VCSELs (Vertical Cavity Surface Emitting Lasers), a key component for photonic information communication. Such work was done by Prof. Kenichi Iga, the former president of Tokyo Institute of Technology, when he was in our laboratory. "Ultra-Parallel Electronics" headed by Prof. Iga was selected as one of the Center of Excellence programs by the Ministry of Culture and Education. In 2000, Micro-system Research Center was built as an extension of the program to investigate photonic devices and systems for high-capacity optical communication, high-capacity optical memory and parallel information processing systems, and has been reformed to Photonics Integration System Research Center. In 2008, another new research center, Secure Device Center, was built to realize devices to support and assure security and safety of the human society.